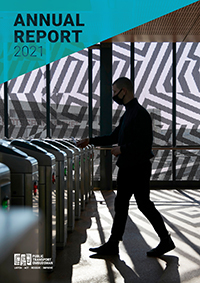 The report shows that complaints about public transport fell 47% from the previous year due to lockdowns and travel restrictions.
For the 2020/2021 year, overall approaches at 2072 were down 39% from the previous year (3373). Complaints and investigations decreased 47% from 2428 to 1292.
The year began and ended with Melbourne and Victoria going into lockdowns to curb the spread of COVID-19, with public transport patronage falling as low as 9% in some weeks. The reduced passenger trips and transactions went against the long-term trend of Melbourne's growing population and public transport usage, complaints to the PTO fell but not as much as patronage. Although patronage fell under 10% of the previous year's baseline on some modes, approaches to the PTO only fell as low as 30% compared to last year.
Approaches to the PTO, including complaints, can have one or more issues recorded. The top 5 issue categories within approaches were:
Staff: 1007
Service delivery: 744
Ticketing: 672
Land and Infrastructure: 559
COVID-19: 328
Download the Annual Report PDF here or as a plain text Microsoft Word file here.
You can access the Annual Report media release here.
---
Previous Annual Reports
PTO Annual Report 2020 Plain Text (Word)
PTO Annual Report 2019 Plain Text (Word)
PTO Annual Report 2018 (PDF)
PTO Annual Report 2018 Plain Text (Word)


The Public Transport Ombudsman respectfully acknowledges the traditional custodians of the land on which we operate our services. We pay our respects to the ongoing living cultures of Aboriginal peoples, and to Elders past, present and future.