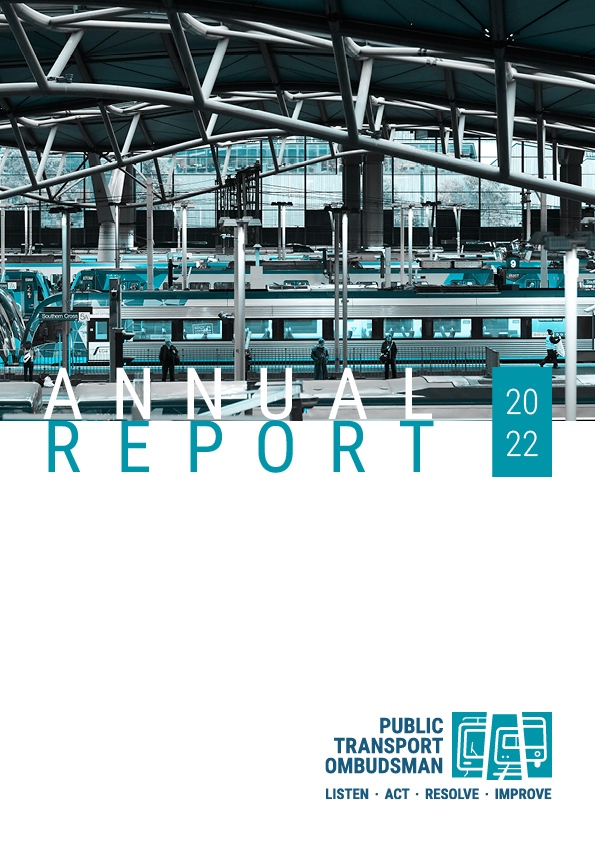 Each year, the Public Transport Ombudsman (PTO) Annual Report overviews the complaints and issues that Victorians brought to the PTO during the preceding financial year period.
The PTO Annual Report 2022 was published on 7 December 2022, and shows:
a 10 per cent increase in complaints during the 2021-22 financial year, broadly in line with the number of Victorians using public transport again as pandemic restrictions eased – although the proportional mix of complaint types remained largely the same as the previous year
the top 5 public transport issues within a combined 1,423 complaints received related to (in order of prominence): public transport staff; land & infrastructure; service delivery; ticketing issues (including myki); issues with trams, trains & buses
myki issues bucked the proportional increase trend (falling slightly), as did complaints about public transport accessibility and Authorised Officers (small but notable upticks)
This year's Annual Report also overviews a new joint initiative between the PTO and Department of Transport (DOT) that means the PTO can now handle complaints about public transport fines where certain 'special' or 'exceptional' circumstances apply.
The new arrangement does not replace DOT's existing Infringement review process – instead, it gives Victorians an additional avenue to sort out their complaint. Read more about this initiative on page 37 of the Report, and more about how and when the PTO can help with public transport fines at our common complaints page.
The PTO Annual Report 2022 is the third report released by Ombudsman Simon McKenzie. The 2021-22 financial year marks the PTO's 18th year of operation.
Download the Annual Report PDF here or as a plain text Microsoft Word file here.
You can access the Annual Report media release here.
---
Previous Annual Reports
PTO Annual Report 2021 Plain Text (Word)
PTO Annual Report 2020 Plain Text (Word)
PTO Annual Report 2019 Plain Text (Word)
PTO Annual Report 2018 (PDF)
PTO Annual Report 2018 Plain Text (Word)


The Public Transport Ombudsman respectfully acknowledges the traditional custodians of the land on which we operate our services. We pay our respects to the ongoing living cultures of Aboriginal peoples, and to Elders past, present and future.