All passengers are being asked to play their part to keep Victoria COVID-19 free and be safe when travelling on public transport. This includes keeping a physical distance from others where possible, practising good hygiene (washing hands often and coughing and sneezing into your elbow or tissue) and staying at home if you are unwell and getting a COVID-19 test if you have any symptoms.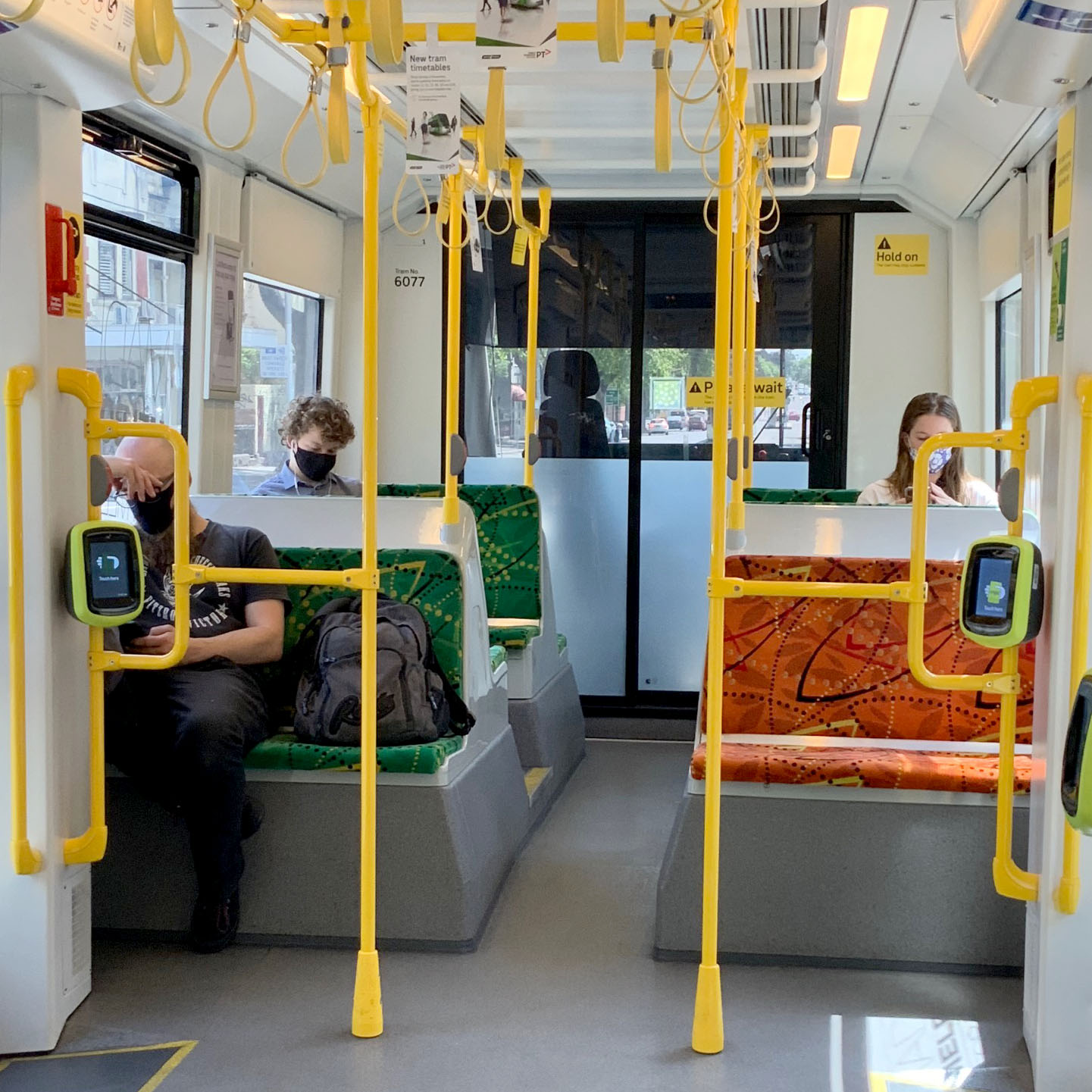 Here are 5 ways to stay safe when travelling on public transport throughout Victoria:
1. Wear a face mask
When travelling on public transport you must wear a properly fitted face mask covering your nose and mouth (unless you have a lawful reason for not doing so) and wear it for the entire journey.
Passengers must also wear their fitted face mask (not a bandana or scarf) when entering and exiting train stations, on the platforms, and at bus and tram stops.
2. Safe travel
Everyone is encouraged to practise good hygiene when on public transport:
Wash your hands before and after you travel
If you are unwell, stay home and get tested
Keep your distance where you can
Respect the clearance zone around drivers
Spread out along the platform and keep doorways clear
The Department of Transport have additional daily cleaning services in place across the network, as well as contactless hand sanitisers at many stops and stations to help keep you safe while travelling.
3.

Physical distancing

When travelling on public transport please keep your distance from other passengers where you can and respect the clearance zone around drivers. Some tips for physical distancing include:
Avoid busy services by travelling outside peak times (7am to 9am and 4.30pm to 6.30pm) and travel only as far as you need to
At stops and on platforms, wear a mask and keep your distance from other passengers
If it's raining, take an umbrella so you don't gather under shelters
Wait for passengers to get off before you board
Keep doorways clear so people can get on and off safely
If your carriage is busy, try a different door or wait for the next service
If you need to use the lift, consider waiting for an empty one to maintain a safe distance from other people
When using escalators, try to stand four steps away from the person in front and avoid walking up or down
4.

Cashless ways to top up

Public transport staff are no longer handling cash, but there are still plenty of ways to top up your myki or purchase a ticket:
Top up at myki machines, located at all stations
Use quick top up machines at stations
Shop at an authorised retailer including all 7-Eleven stores
Use a credit or debit card with public transport staff
Top up online on the PTV website
Regional customers on trains or buses can purchase tickets using a credit or debit card with staff at any station or by visiting the V/Line website. Cash can still be used at myki card vending machines located across the public transport network.
5. If unwell, stay home
If you are unwell you must stay at home. You must not go to work. If you have even the mildest symptoms of COVID-19 you must get a COVID-19 test. The symptoms to look out for are:
Loss or change in sense of smell or taste
Fever
Chills or sweats
Cough
Sore throat
Shortness of breath
Runny nose
In certain circumstances headache, muscle soreness, stuffy nose, nausea, vomiting and diarrhoea may also be considered.
Find your nearest COVID-19 testing location on the DHHS website.
How to contact us
If you have a complaint about public transport you haven't been able to resolve with the operator, we want to hear from you. Call us on 1800 466 865 or you can This email address is being protected from spambots. You need JavaScript enabled to view it. with your phone number and a time that is best to contact you between 9am and 5pm, Monday to Friday. (If we are unable to call you at this time, we will suggest another time.)
We can also be contacted via our online complaint form or you can send us a message via Facebook. We can also be contacted via The National Relay Service and Translating and Interpreting Service.
If you need any assistance with planning your travel, you can call PTV on 1800 800 007.
For news and updates from the PTO follow us on Facebook, Twitter, LinkedIn and Instagram.
More information on Coronavirus
For more information on Coronavirus and where to get tested, visit the Department of Health and Human Services (DHHS) website.
Vulnerable Victorians can get tested at home in metropolitan Melbourne to help slow the spread of coronavirus (COVID-19). For more information, visit the DHHS Call-to-Test page.
To read COVID-19 translated information for people from culturally and linguistically diverse backgrounds, visit the DHHS translated resources page.
Visit the Victorian Government's website for the latest information on restrictions and advice on Coronavirus (COVID-19).


The Public Transport Ombudsman respectfully acknowledges the traditional custodians of the land on which we operate our services. We pay our respects to the ongoing living cultures of Aboriginal peoples, and to Elders past, present and future.